Storing round hay bales: the effects of rain and humidity
Several factors go into determining the true cost of the loss of hay from rain and humidity. In fact, the amount of loss from a round bale of hay depends on several factors. Many farmers have switched to round bales over square bales specifically because of the decrease in loss from rain and humidity.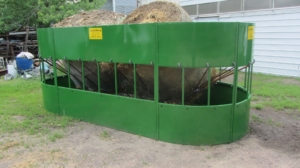 How you store round bales should be dictated by where you live. Average rainfall amounts in conjunction with average humidity levels play a part in how much hay loss occurs. Typically, loss in round bales is two to eight inches off the outer bale. This means that the size of the round bale and the density of the bale are incredibly important in determining true loss. Because we are talking about loss, we are talking about the ongoing cost of lost food that farmers buy each year. That cost is something that farmers can address and decrease with proper management. Barn storage can help, but using a round bale feeder is also beneficial to reducing hay loss.
One of the first steps farmers can take to reduce feed loss is to buy larger and denser, or heavier, round bales. A larger round bale that loses eight inches of outer feed will likely have a smaller percentage of a loss than a smaller round bale that loses four inches of outer feed. It is logical that if the two hay bales were the same density and sat side by side that the loss in inches would be equal. The difference being that the smaller bale has less food in it. That means that with the smaller bale you risk losing more forage material. What this shows us is that overall larger bales will reduce loss. Heavier hay bales are denser. The tighter compaction of hay offers greater security as weather and humidity have a harder time penetrating the outer layer of the round hay bale. So larger and denser bales offer the greatest protection from elements such as rain and humidity. How you store round bales also plays a role. In areas with higher annual rainfall or higher humidity you will have greater hay loss.
Barn storage is one answer that helps reduce loss. Hay feeders are another way to reduce loss of hay that is outside of covered protection. An elevated and covered round bale feeder offers the greatest protection from hay loss due to rain and humidity. For farms that are located in an area where there is a lot of air moisture or rain, consider a covered hay feeder. They are an economical way to save on the cost of lost hay due to weather and humidity, especially where barn storage is not available.